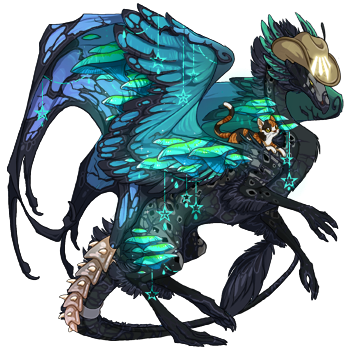 I turn around sharply as I hear a noise. I sigh as I watch
MartinBedell
put on an act of being in utter pain. His large
Ridgeback
body falls clumsily to the ground. He plays around with
Cameron
, the newest hatchling to the clan, with a grin on his face.
They get along fine, I must admit. More than fine, if I wanted to accept the fact.
I hold back a chuckle as
Elfangor
jumps in fright as the young
Skydancer
'protects' Marty. The
Mirror
quickly goes away leaving me to watch the duo in secret.
I didn't agree with keeping Cameron in the clan. It had nothing to do with how close she was to Marty, she was merely a hatchling and romantic feelings wouldn't form between the two until she was older.
Birchurawkp
was one of the few clan members that believed in dragons avoiding possible future mates when the other was a hatchling.
Marty didn't share the same viewpoint.
What it had to do with was the fact that Cameron originally came into the clan to murder Marty.
Murder him!
So what do we do with an assassin? Take her in!
Cameron had tried to make her kill when Marty was near the edge of the camp and then attacking his tail. A hatchling Skydancer attacking a full grown Ridgeback...yeah, there was no contest. But it wasn't until Marty knocked her out that she stopped.
I guess there was no harm, but her actions spell trouble for the future. I bet
Seitou
puts her in my department.
Hardly thinking about it, I dodged Cameron as she launched herself at me. I shrugged and turned to see her fall down. Her wings were spread out, as if she didn't believe she could fail at anything.
I had to admit, her finding me was quite a feat for a dragon so young.
I fled as Marty turned his attentions to me.
Jash's Journal's Table of Contents
If you liked this journal entry, I have a Writing Shop on Flight Rising where I'll write bios and fanfictions of your dragons. I will also help suggest names for your dragons.